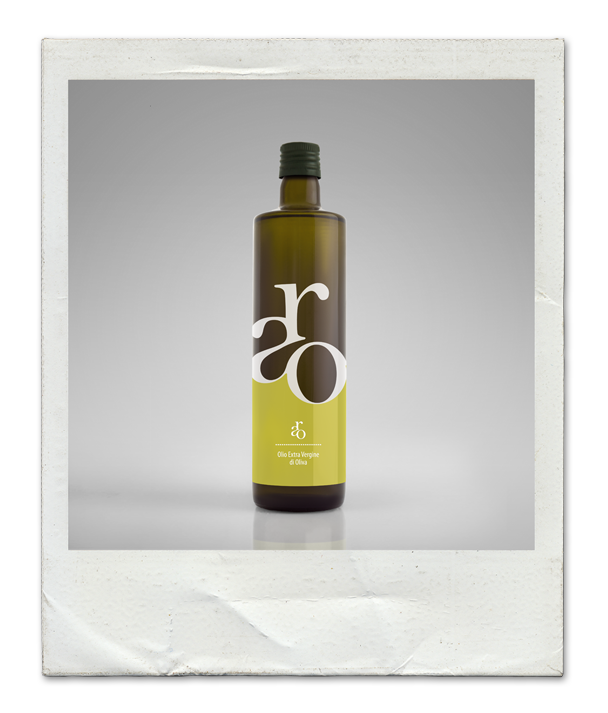 Olio Rao
Extra Virgin
Olive Oil
Olive Oil Rao is a true nectar of olives, superior quality and it's rich in valuable nutrients.
DOWNLOAD
PDF
Precedente
Successiva
Ingredients for 4 people
500 g beef
200 g prunes
50 g bacon
1 clove of garlic
1 onion
1 carrot
1 celery stalk
50 cl SilvaNigra Rao red wine
Olive oil
Butter
Salt
Pepper
procedure:
Batten meat with bacon.
Chop the vegetables, let them flavor in oil and butter, add meat and when is well browned wet it with some red wine, let it evaporate, salt and pepper, add some hot water and cook it with the lid for two hours. 
Soak the prunes in the remaining wine.
Halfway through cooking the meat add the plums with their liquid.
Serve hot braised, sliced, nappa with plum sauce.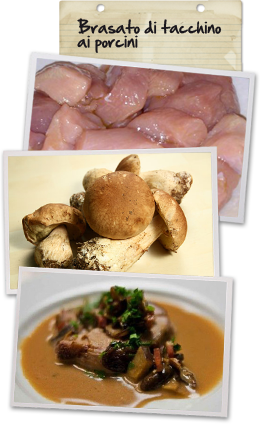 Ingredients for 4 people
500 g turkey
300 g porcini mushrooms
150 g lean bacon (a single slice)
2 carrots
2 celery stalks
2 onions
4 tsp olive oil
1/2 liter SilvaRubra Rao red wine
1/2 liter broth (meat or vegetable)
Salt
Pepper
Preparation:
Cut the bacon into small cubes and chopped onion, celery and carrots. Place in a large saucepan to fry.
As soon as they are golden, add the turkey cut into chunks, and add the wine. Let simmer for about 15 minutes, then add the mushrooms clean and cut into chunks, and add the broth.
Let cook for about twenty minutes until the liquid has evaporated. Add salt and pepper and serve it.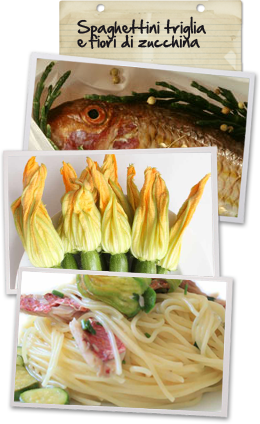 Ingredients for 4 people
200 grams mullet fillets
320 grams spaghetti
12/15 pumpkin flowers with their pumpikin attached
1 glass SilvaAura Rao white wine
1 clove of garlic
Parsley
Salt
Pepper
Procedure:
In a nonstick pan warm up a bit of olive oil with a clove of minced garlic.
Add the pumpkin cutter into slices and 4/5 tsp hot water. Cook it for a few minutes with the lid on low heat.
Meanwhile, cook spaghetti in salted water. Add in pan fillets mullet, pumpkin flowers, a glass white wine, salt, pepper and parsley.
As soon as the wine has evaporated, add spaghetti and mix. Serve it immediately!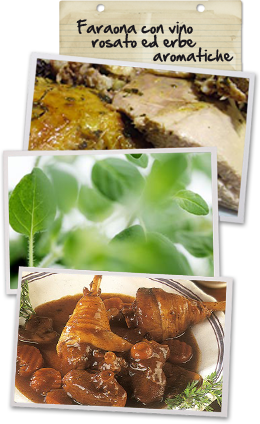 Ingredients for 4 people
400 gr. guinea fowl, cut into pieces
1 glass SilvaRosa Rao rosè wine
2 tsp extra virgin olive oil
1 tsp juniper berries
1 tsp dried rosemary
1 tsp dried thyme
2 cloves of garlic
myrtle leaves
pepper just enough
salt just enough
Procedure:
Pour into a baking dish extra virgin olive oil.
Combine some myrtle sprigs, the garlic cloves peeled and whole, rosemary and thyme, juniper berrie, and finally the pieces of guinea fowl flamed and washed.
Pour over it the rosé wine, some thyme and rosemary, and two or three sprigs of myrtle.
Season with salt and a generous grinding of pepper.
At this point, put in a preheated oven at 200 degrees and cook for an hour.
During cooking, turn the pieces of guinea fowl and occasionally sprinkle it with the gravy.
Extract from the oven, draw it, sprinkle it with the gravy and serve it at the table.